Online Education Introductions: ANT 311 Anthropology of Globalization with Sara Lyon
Anonymous (not verified)
Tue, 05/10/2011 - 05:19 pm
Anthropology Distinguished Lecturer Series 2023
tlcr235
Wed, 12/21/2022 - 11:40 am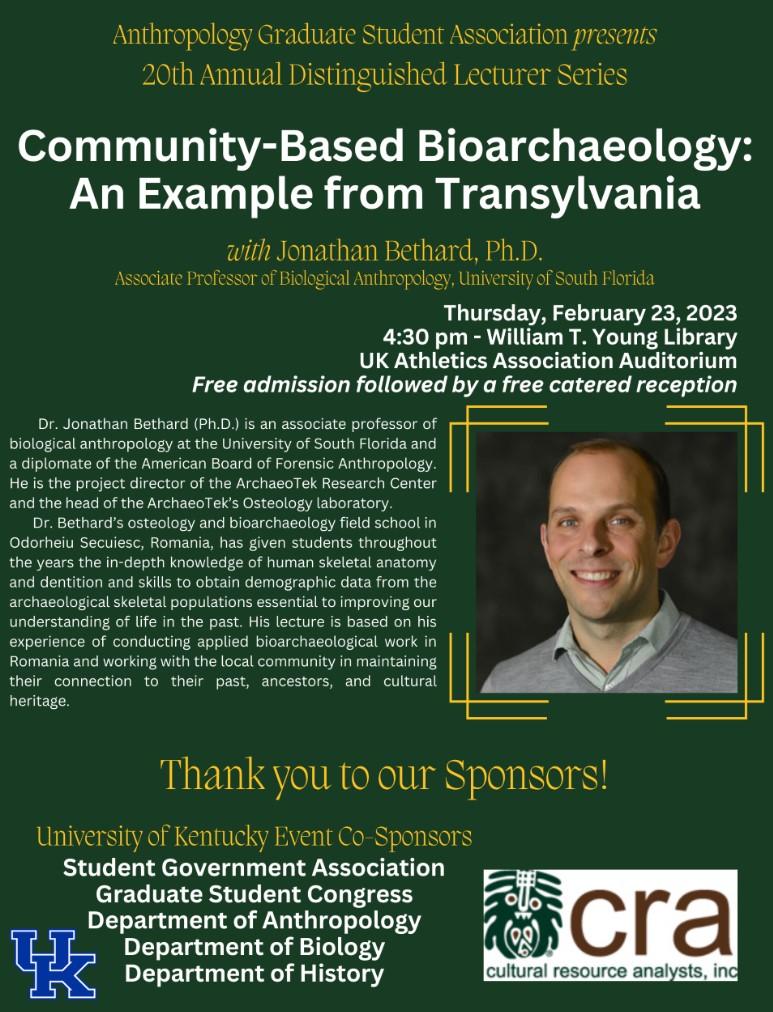 Location:
UK Athletics Association Auditorium, William T. Library
Type of Event (for grouping events):
Dimensions of Political Ecology Conference
hri229
Thu, 11/14/2019 - 04:07 pm
The Dimensions of Political Ecology Conference (DOPE) is organized and hosted entirely by an interdisciplinary group of graduate and undergraduate students at the University of Kentucky. Since its inception in 2010, this student-organized conference has become one of the largest, most highly regarded international forums for critical discussions at the intersection of ecology, political economy, and science studies. DOPE 2020 welcomes Dr. Alaka Wali, Dr. Diana Ojeda, Dr. Justin Dunnavant, Dr. Macarena G

ó

mez-Barris, and Dr. Rebecca Elmhirst as our speakers, along with many professors, graduate students, and undergraduate students

. The DOPE Conference offers a platform for both established and emerging scholars to present research and engage in political ecology scholarship. Registration is free for UK graduate and undergraduate students! Register here!
Location:
University of Kentucky
Take Root: A Reproductive Justice Panel
cebe242
Thu, 08/29/2019 - 01:55 pm
Date: Oct 8, 2019 (Tuesday)
Light Lunch Reception: 11:15am-12:15pm, Multipurpose Room, WTY Library
Panel: 12:30-1:45pm, UKAA Auditorium, WTY Library
Evening Reception: 5-7pm, Lyric Theater 
As part of the Year of Equity programming, this panel brings together organizers, activists, and healthcare providers from national organizations red states to discuss challenges, approaches, and perspectives in advancing reproductive justice. Centering on the experiences and leadership of women, trans, and non-binary people of color, this panel will present latest community research, initiatives, and advocacy on reproductive justice.
Panelists, in alphabetical order, include: 
Kelli Goode, Trans rights activist, artist, and cultural writer
Dr. Nikia Grayson, Director of Midwifery Services, CHOICES
Oriaku Njoku, Executive Director and Co-founder, Access Reproductive Care-Southeast
Jessica Roach, Executive Director and Founder, ROOTT  
Cherisse Scott, CEO and Founder, SisterReach
Ondine Quinn, MSW, Sexuality Educator and Board Treasurer, Kentucky Health Justice Network
In addition to the Year of Equity, this event is co-sponsored by the departments of Anthropology, Gender and Women Studies, Sociology, and Writing, Rhetoric, and Digital Studies; the Office of LGBTQ* Resources, the Center for Health Equity Transformation, the Center for Equality and Social Justice, Building Interdisciplinary Research Careers in Women's Health, the National Advocates for Pregnant Women, and Kentucky Health Justice Network. 
Location:
William T. Young Library Auditorium
Type of Event (for grouping events):
Tableware Restrictions and Hospitality: The Case of Siberian Old Believers
cmshea2
Mon, 10/22/2018 - 09:44 am
Location:
Hardymon Theater
Arts and Culture Week
Events include:
The Universal Language: Latin
September 17th, 2018, Patterson Hall 218, 4:00pm-5:00pm
Drs. Milena Minkova and Terence Tunberg from the Modern & Classical Languages, Literatures and Cultures Department will present "The Universal Language: Latin" at the International Village LLP.
DKL222
Tue, 09/11/2018 - 06:09 pm
Linguistics seminar series: Ashley Stinnett
sgr252
Fri, 01/26/2018 - 10:21 am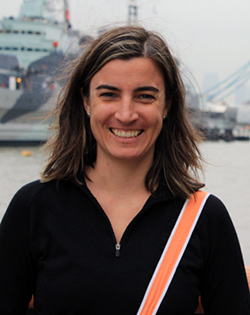 Ashley Stinnett, is an assistant professor in the Department of Folk Studies and Anthropology at Western Kentucky University. She received her Ph.D. from the School of Anthropology at the University of Arizona. Her areas of specialization are linguistic anthropology with a sub-specialty in applied visual ethnography and educational documentary filmmaking. Her research primarily concerns the sociocultural and linguistic processes in which locally centered, historical and traditional knowledge specific to food are realized and put into daily practice. Ashley researches language production in communities of practice in occupational settings and community driven efforts, specifically related to food production. Additionally, she partners with local community organizations utilizing applied anthropological approaches while synchronously incorporating visual anthropology methodologies in both the practice and the production of visual media materials. Her primary research focuses on language practices of heritage butchers in the Southwestern United States. Her most recent project utilizes linguistic and sensory ethnography in a focus on food fermentation.
Location:
Niles Gallery, Lucille Little Library
Type of Event (for grouping events):
Linguistics MLK Seminar: Barbra Meek
kbmc229
Fri, 01/26/2018 - 10:17 am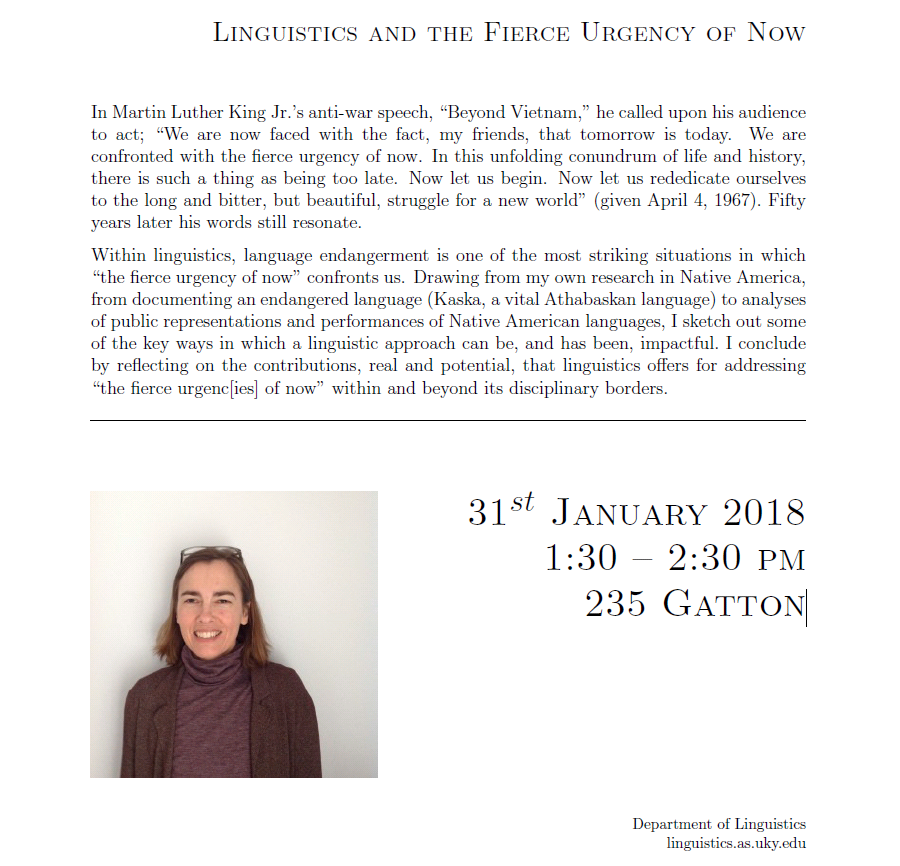 Location:
235 Gatton College of Business and Economics
Type of Event (for grouping events):
Negotiating Life: Resilience in an Era of the China Dream
Department Manager
Thu, 08/24/2017 - 08:53 am
Ecological practices of daily life have taken on new urgency and approaches as consumer citizens increasingly voice awareness of environmental sustainability in China. This lecture will focus on "everyday ecologies"--personal engagement with social and material worlds to negotiate well-being. 

Prof. Nancy Chen is Chair of the Anthropology Department and an affiliate of East Asian Studies and Feminist Studies at UC/Santa Cruz. Her research interests include Chinese biotechnology, food and medicine, and alternative healing practices. She is author or editor of six books, including China Urban. 
Sponsored by the Department of Anthropology and the UK Confucius Institute.
Location:
Whitehall Classroom Building 106
Subscribe to anthropology