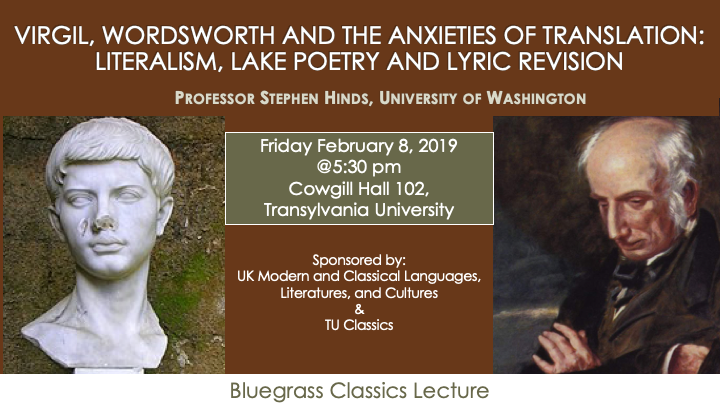 Location:
Cowgill Hall, Transylvania University Campus
Type of Event (for grouping events):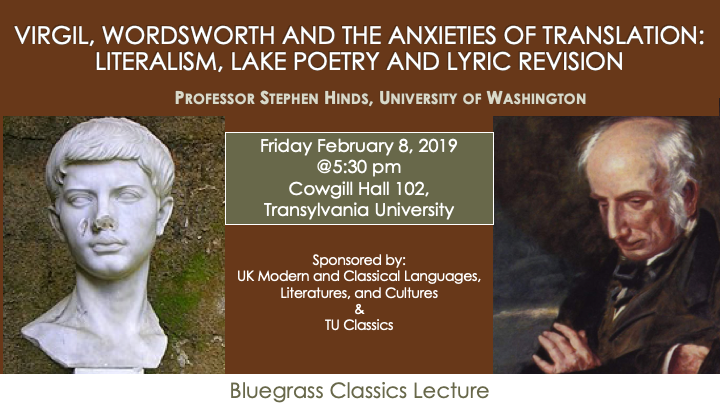 Virgil, Wordsworth and the anxieties of translation:  literalism, lake poetry and lyric revision
Stephen Hinds (University of Washington, Seattle)
In his current book project, Poetry across Languages: Studies in Transliteral and Transcultural Latin, Stephen Hinds moves between periods to explore the cross-linguistic and intercultural relations of poetic writing in Latin within antiquity, between antiquity and modernity, and even within modernity.  Throughout, he is concerned to treat the 'classical tradition' as process rather than as product, involving many micro-negotiations of authors and readers across language and culture.
William Wordsworth (1770-1850), who in his fifties began and then abandoned a translation of the Aeneid, had a long and sometimes anxious history of engagement with the classical tradition.  The ebb and flow of that engagement can be dramatized by sampling (via the monumental Cornell edition of Wordsworth) the poet's own first drafts, revisions and deletions, and the editorial and commentatorial interventions of friends and family.  After a look at some moments in Wordsworth's Aeneid (vigorously criticized by his great contemporary Samuel Taylor Coleridge), this paper focusses on the post-Virgilian Laodamia and, more briefly, on the Greek-inspired Dion (grounded in one of Plutarch's Lives).  Trace-elements of Wordsworth's distinctive poetic of lake and landscape will come into play at different points throughout.
Location:
Transylvania University Cowgill Hall 102
Type of Event (for grouping events):
Subscribe to translation studies