Community Day of Writing at the Lexington Farmers Market
jlbeam4
Tue, 01/24/2012 - 09:30 am
WHAT: Community Day of Writing at the Lexington Farmers Market
WHERE: Victorian Square
WHEN: Saturday, Feburary 11, 8:00a.m. - 1:00p.m.
Students in the UK College of Arts & Sciences will be recording oral histories and scanning photos, posters, and any other memorabilia from Lexington Farmers Market supporters. Drop by the atrium at Victorian Square between 8:00 a.m. and 1:00 p.m. to share your memories or your memoriabilia with student oral historians. Help preserve the community's memories of the Lexington Farmers Market. For more information contact Professor Jenny Rice at jenny.rice@uky.edu
Location:
Atrium at Victorian Square
How to Download Photographs of You and Your Friends on the A&S Website!
dlro223
Fri, 12/16/2011 - 05:08 pm
Have you found an image on our website that you love, and must have a copy of?
Here is how you can download and print that photograph and then charish it for the rest of your life!
1. Go to Univerity of Kentucky College of Arts and Sciences website home page at: http://www.as.uky.edu/
2. If you haven't already taken a look at our recent photographs, take a look by choosing the Photos option on our homepage.
3. After you have made a decision on any photographs that you would like to have, return to the A&S homepage to find the FLICKR button. This link will bring you to our photostream on flickr, called UK College of Arts & Sciences. Below is an image of where the flickr button is on our A&S website homepage.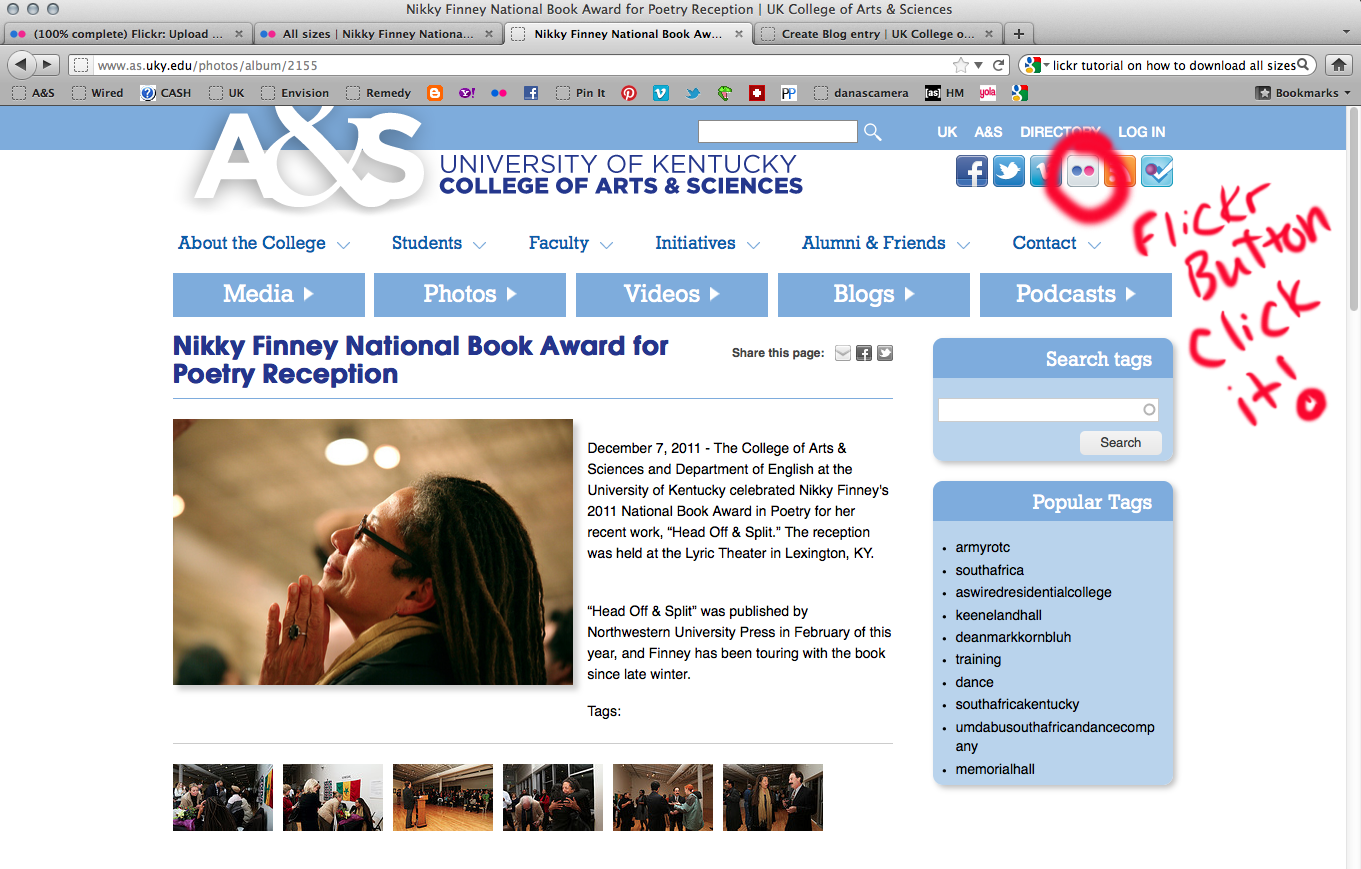 4. When you have successfully surfed to our flickr website account, UK College of Arts & Sciences, find your desired image by searching through the photostream, or more efficiently by clicking on the sets link shown here...
Subscribe to photos