kentucky archaeological survey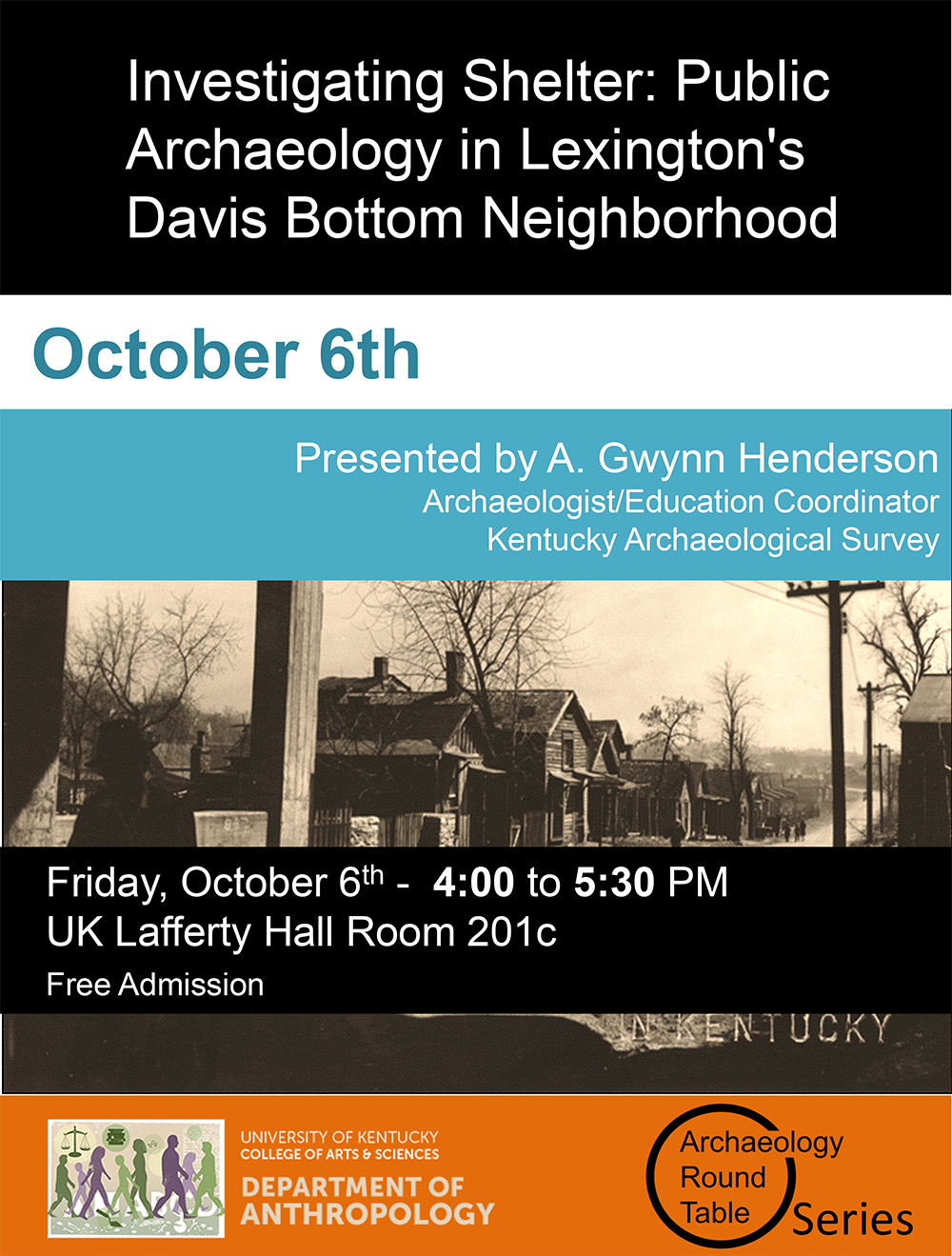 Location:
Lafferty room 201
Type of Event (for grouping events):
Getting By, and Getting Out: logging and domestic life at two sites on Indian Creek, Menifee County, Kentucky
srhuts2
Tue, 09/13/2016 - 02:00 pm
Location:
Lafferty Hall Room 108
Type of Event (for grouping events):
They Preserve the Past for the Future
Adjunct Assistant Professors A. Gwynn Henderson and David Pollack have been award this year's Ida Lee Willis Memorial Award for outstanding commitment to historical preservation.
mngr222
Wed, 06/04/2014 - 11:21 am
Davis Bottom Documentary Premieres Nov. 21
A one-hour documentary exploring the history of one of Lexington's most diverse neighborhoods will have its official Lexington premiere screening at the Lexington Public Library.
mngr222
Fri, 11/15/2013 - 10:58 am
Experience 'Kentucky Before Boone' at Red River Gorge
Now in its 25th year, the Living Archaeology Weekend (LAW) is Kentucky's largest and longest-running archaeological event.
jcho222
Fri, 09/20/2013 - 09:20 am
Public Invited to Archaeological Tours
Archeologists at the Kentucky Archaeological Survey and the University of Kentucky will lead a guided tour of historic features and artifacts uncovered at Ashland - The Henry Clay Estate.
smru222
Tue, 03/05/2013 - 04:33 pm
UK Archaeologist Helps Unearth Hatfield and McCoy Artifacts
A notorious feud between the Hatfields of West Virginia and the McCoys of Kentucky is once again making national news, but this time it is hitting a little closer to home. A discovery of artifacts associated with patriarch Randall McCoy's home and site of an infamous 1888 attack were confirmed by Kim McBride, a historic archaeologist with the Kentucky Archaeological Survey, a joint partnership with the University of Kentucky Department of Anthropology and the Kentucky Heritage Council/State Historic Preservation Office.
smru222
Mon, 01/28/2013 - 02:09 pm
UK Archaeology Project Featured in American Archaeology Magazine
Adjunct Anthropology Professor Kim McBride's 22 years of archaeological work at Pleasant Hill, a former Shaker community approximately 30 miles southwest of Lexington, was recently featured in the national publication, American Archaeology magazine. The magazine's seven-page feature highlights McBride's extensive work at Pleasant Hill, which includes directing a series of field schools in which more than 100 students have located former building sites throughout the village.
jcho222
Mon, 10/01/2012 - 11:58 am
UK Archaeologists Survey Ky. Revolutionary War Site
UK archaeologists are undertaking a geophysical survey and limited excavations at the site of Fort Boonesborough on the Kentucky River in May.
jlbeam4
Wed, 05/16/2012 - 10:34 am
UK Provides Exemplary Resources for Archaeology Students
jlbeam4
Tue, 04/03/2012 - 12:26 pm
Subscribe to kentucky archaeological survey