by Whitney Hale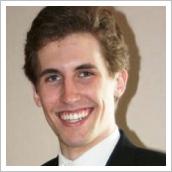 The Astronaut Scholarship Foundation (ASF) has selected University of Kentucky student Brandon Kulengowski, of Lagrange, Ky., as one of this year's 28 recipients of the prestigious $10,000 scholarship. The ASF Scholarship is presented annually to outstanding college students majoring in science, technology, engineering or math.
Astronaut Scholars exhibit motivation, imagination and intellectual daring, as well as exceptional performance, both in and outside the classroom. The foundation has awarded more than $3.5 million in scholarships to date, including $131,000 in scholarships to UK students alone.

Brandon Kulengowski, the son of Debbie and Timothy Kulengowski, attended Oldham County High School before coming to UK. At the university, he is pursuing a doctoral degree in pharmacy. In addition to his studies, Kulengowski is an alumnus of Triangle Fraternity and has worked as an undergraduate learning assistant and peer tutor in chemistry. He is also a recipient of the Ralph and Janice Young Scholarship and the Commonwealth Scholarship.
As an undergraduate, Kulengowski has been active in the university's research enterprise. During his time at UK, the Astronaut Scholar worked with researchers at the Center for Applied Energy Research where he investigated capacitive deionization, a term for separating contaminating ionic particles from water solutions by using oppositely charged metal plates.
Kulengowski also has researched spinal cord injury sites and experimented with nerve cells in an attempt to further understand how to reconnect nerve signals post-injury and better understand the behavior of nervous tissue. His undergraduate research with spinal cords was under the direction of Diane Snow, Endowed Chair of the Spinal Cord and Brain Injury Research Center and director of UK Office of Undergraduate Research.
The Astronaut Scholar hopes his scholarship will allow him to dedicate more time to the classroom and lab. "This award provides me with the opportunity to focus exclusively on my studies without having to balance work along with extracurricular activities, research and academics," said Kulengowski.
Students interested in applying for the Astronaut Scholarship may contact Pat Whitlow, director of the UK Office of External Scholarships, for more information. The Office of External Scholarships (OES), part of the Division of Undergraduate Education, assists current students and recent alumni in applying for scholarships and fellowships funded by sources outside the university. Specifically, OES helps students strengthen an application, develop a personal statement, practice for an interview and provides other preparation activities for the scholarship application process. Students who are interested in these opportunities are encouraged to begin work with Pat Whitlow well in advance of the scholarship deadline.
The Astronaut Scholarship Foundation is a nonprofit organization established by the Mercury Astronauts in 1984. Its goal is to aid the United States in retaining its world leadership in science and technology by providing scholarships for exceptional college students pursuing degrees in these fields. Today, more than 80 astronauts from the Gemini, Apollo, Skylab, Space Shuttle and Space Station programs have joined in this educational endeavor. For more information on this foundation, visit online at www.AstronautScholarship.org.