Location:
Zoom (https://tinyurl.com/springspeaker3)
Speaker(s) / Presenter(s):
Eunjung Kim
This is the third speaker for the Committee on Social Theory's Spring 2023 Speaker Series on the theme of Debility and After/ Alterlives: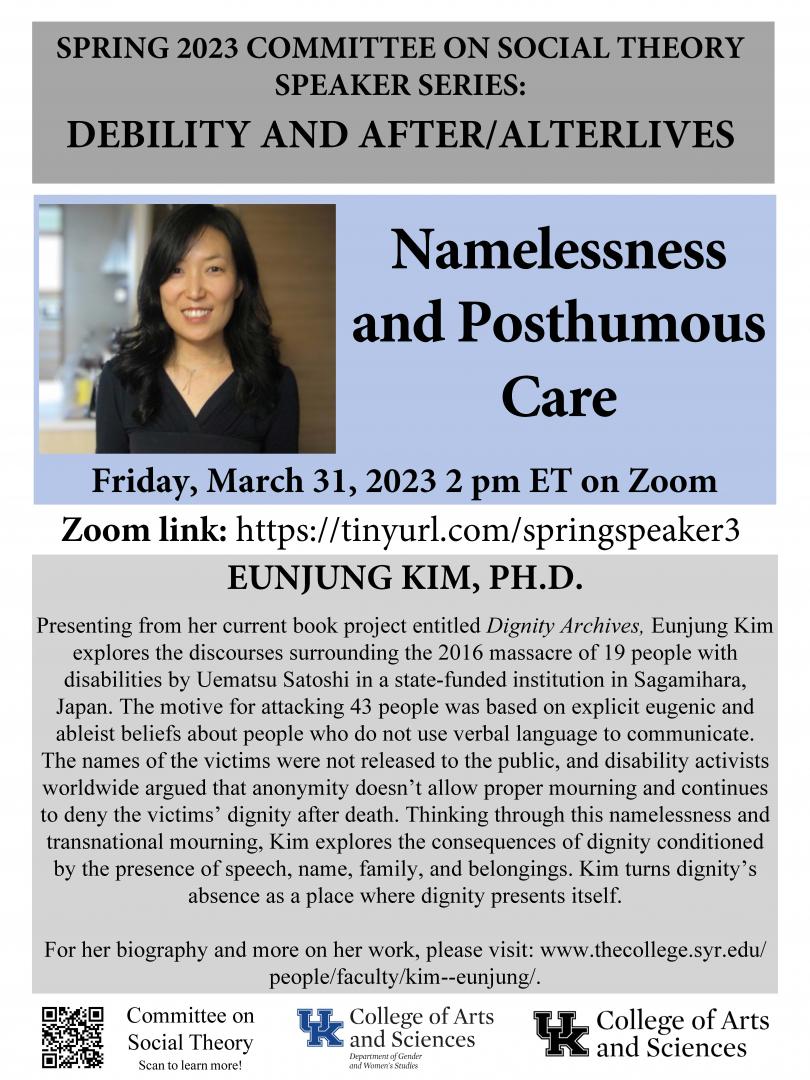 Eunjung Kim is an associate professor of Women's and Gender Studies and Disability Studies at Syracuse University. She is an author of Curative Violence: Rehabilitating Disability, Gender, and Sexuality in Modern Korea (Duke University Press, 2017) a co-editor of Crip Genealogies (Duke University Press 2023). Her work appeared in journals such as Catalyst: Feminism, Theory and Technoscience; GLQ; Social Politics and in several edited collections. She is a member of WDE, a disabled women's organization based in Seoul. Presenting from her current book project entitled Dignity Archives, Eunjung Kim's talk will explore the discourses surrounding the 2016 massacre of 19 people with disabilities by Uematsu Satoshi in a state-funded institution in Sagamihara, Japan. The motive for attacking forty three people was based on explicit eugenic and ableist beliefs about people who do not use verbal language to communicate. The names of the victims were not released to the public, and disability activists worldwide argued that anonymity doesn't allow proper mourning and continues to deny the victims' dignity after death. Thinking through this namelessness and transnational mourning, Kim explores the consequences of dignity conditioned by the presence of speech, name, family, and belongings. Kim turns dignity's absence as a place where dignity presents itself.
For more on Dr. Kim, please visit https://thecollege.syr.edu/people/faculty/kim--eunjung/.