by Whitney Hale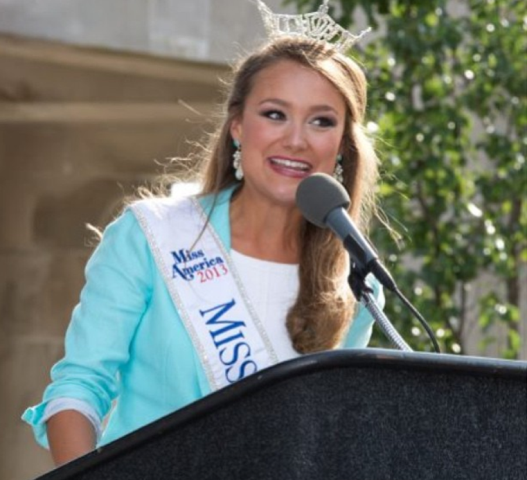 This Sunday, the University of Kentucky community will tune in to the Miss America Pageant to see if one of its own will be crowned. Vocal performance and political science senior Jenna Day is currently competing in preliminary competitions for the coveted title in Atlantic City, N.J. The pageant finals will air live 9 p.m. Sunday, Sept. 15, on ABC.
In addition to watching Day compete for the crown, Big Blue Nation can vote for Day to be selected as America's Choice in the pageant. Individuals can vote for only one contestant's video via the Miss America website at www.missamerica.org/videocontest/default.aspx or through the "Video Contest" tab on Miss America's Facebook page at www.facebook.com/missamericaorganization. Voting closes at 11:59 p.m. EST Thursday Sept. 12.
To be qualified for the Miss America Pageant, Day, competing as Miss Berea Area, won the Miss Kentucky Pageant held in June, at the Singletary Center for the Arts.
The Miss America Organization is one of the nation's leading achievement programs and the world's largest provider of scholarship assistance for young women. Last year, the Miss America Organization and its state and local organizations made available more than $45 million in scholarship assistance.
A native of Louisville, Ky., Day is the daughter of Daniel and Lesley Day. Her personal platform issue is "Improving the Lives of Special Needs Children." For her talent performance, she will sing. In the Miss Kentucky Pageant, she performed "And This Is My Beloved" from "Kismet," for which she received a talent award.
As Miss Kentucky, Day received more than $12,000 in scholarships and use of a new Lexus during her year of service. Also as part of her title, she serves as the spokesperson for the Kentucky Department of Agriculture's Kentucky Proud program, which encourages consumers of all ages to purchase products produced in Kentucky. Day delivers this message to all age groups in schools throughout the Commonwealth.
Upon completion of her undergraduate degree, Day hopes to eventually pursue a career in public service.