By Whitney Hale
(Aug. 11, 2015) — Legendary 81-year-old poet Sonia Sanchez will return to the upcoming Kentucky Women Writers Conference on the 10th anniversary of the founding of the conference series named for her. The Sonia Sanchez Series, which brings a major thinker in multicultural and human rights issues to Lexington to speak throughout the community, will this year include a free public screening of "BaddDDD Sonia Sanchez: a new documentary," on the life and work of the celebrated writer, at the Lyric Theatre and Cultural Arts Center.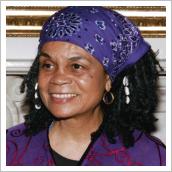 For Sonia Sanchez, writing is both a personal and political act. She emerged as a seminal figure in the 1960s Black Arts Movement, raising her voice in the name of black culture, civil rights, women's liberation and peace as a poet, playwright, teacher, activist and early champion of the spoken word.
Sanchez is among the earliest poets to have incorporated urban black English into her poetry; she was one of the first activists to secure the inclusion of African-American studies in university curricula. Deemed "a lion in literature's forest" by poet Maya Angelou and winner of major literary awards including the American Book Award, Sanchez is best known for 17 books of poetry that explore a wide range of global and humanist themes, particularly the struggles and triumphs of women and people of color.
The iconic poet will kick off the Kentucky Women Writers Conference at the 10th Sonia Sanchez Series keynote event by participating in a discussion on a new documentary on her monumental contributions to the world of poetry and culture, and in turn society. The free screening of "BaddDDD Sonia Sanchez" will begin 6 p.m. Thursday, Sept. 10, at the Lyric.
In the film, Sanchez's life unfolds in a documentary rich with readings and jazz-accompanied performances of her work. The documentary includes appearances by such artists and writers as Questlove, Talib Kweli, Ursula Rucker, Amiri Baraka, Haki Madhubuti, Jessica Care Moore, Ruby Dee, Yasiin Bey, Ayana Mathis, Imani Uzuri and Bryonn Bain. "BaddDDD Sonia Sanchez" examines Sanchez's contribution to the world of poetry, her singular place in the Black Arts Movement, and her leadership role in African-American culture over the last half century.
Following the screening of "BaddDDD Sonia Sanchez," the audience can hear a conversation between Sanchez and Patrice Muhammad, founder and editor of The Key Newsjournal, which has served Ccentral Kentucky's black community since 2004. Muhammad is also the host of the syndicated talk radio program "Key Conversations" on WUKY.
The following day, Sanchez will give a reading for Kentucky Women Writers Conference registrants only. The reading will be followed by a Q&A with DaMaris Hill, assistant professor of creative writing and African American and Africana studies at the University of Kentucky. The reading featuring Sanchez will begin at 9 a.m. Friday, Sept. 11. Also on Sept. 11, Sanchez will visit with UK students in the African American and Africana Studies Program.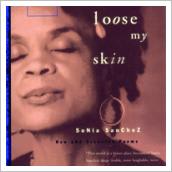 Before Sanchez's visit, Lexington Public Library's Tates Creek Branch will host a book discussion of her work from "Shake Loose My Skin." The discussion will be led by Shawntaye Hopkins, a member of the conference's Sonia Series Committee. This event, which will include free copies of the book for the discussion's first 12 participants, will begin at 10 a.m. Aug. 29.
Conference registration must be purchased in advance. A listing of the events' times and dates can be found here: http://womenwriters.as.uky.edu/itinerary. For more information and to register, visit www.kentuckywomenwriters.org.
Now in its 37th year, the Kentucky Women Writers Conference is an annual event known for bringing notable women writers to Lexington for readings, writing workshops and discussions. A program housed in the UK College of Arts and Sciences, the conference is made possible in part by continued community partnerships, including its primary venue, the Carnegie Center for Literacy and Learning. Registration for the conference is open now.
For more information on the conference or the Sonia Sanchez events, visit online at www.kentuckywomenwriters.org.