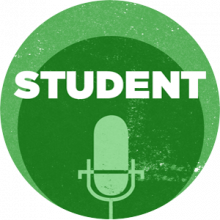 In the weeks and months leading up to the 2012 election, the University of Kentucky and the College of Arts and Sciences held events to help students become more engaged with the political process. One such event, as detailed in another article, was a collective viewing of the second of three Presidential debates this season.

Presented by the Department of Writing, Rhetoric and Digital Media and organized by Brandy Scalise, the event also featured a panel of faculty members who discussed the issues most pressing in this campaign and their intersection with student interests. Political science professor Stephen Voss discussed student loan debt with the debate viewing audience while history professors Paul Chamberlin and David Hamilton covered foreign policy and the broader economic issues of the campaign respectively.

Along with the debate viewing, the WRD Department also facilitated conversation groups for students the following night. WRD department faculty guided student conversations and encouraged them to thoughtfully engage one another on the various topics discussed by the candidates which included manufacturing, energy, and the wars in the middle east.

In this podcast, students react to the debate between President Obama and Governor Romney and discuss the ways in which both the debates and the campaigns affect them.
This podcast was produced by Patrick O'Dowd.

This work is licensed under a Creative Commons Attribution-NonCommercial-ShareAlike 3.0 Unported License.