By Jenny Wells
(March 30, 2015) — Pearl James, associate professor in the University of Kentucky Department of English, will deliver the first lecture of this semester's Chellgren Seminar Series. Her talk, "Hollywood's Great War," will take place at 4 p.m. Tuesday, March 31 in the William T. Young Library Auditorium.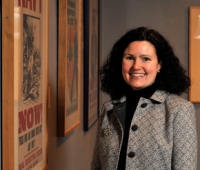 "As the recent success of 'American Sniper' reminds us, the war film genre has been a staple in Hollywood for a long time," James said. "This talk will use the current 100-year anniversary of World War I to discuss Hollywood portrayals of World War I. Hollywood brought glamour to the war but also, occasionally, showed its costs. This talk will focus particularly on King Vidor's wildly popular film 'The Big Parade' (1925), and how it both called up and shaped the American memory of World War I."
About the Chellgren Seminar Series
The purpose of the Chellgren Seminar Series is to contribute to the intellectual aspects of the undergraduate experience by inviting eminent scholars to deliver brief, provocative presentations on issues that expand our thinking and imagination.
The Series is supported by The Chellgren Center which is part of the Academy of Undergraduate Excellence within the Division of Undergraduate Education at UK.