By Whitney Hale, Mack McCormick
University Press of Kentucky author James C. Nicholson, an alumnus and part-time history instructor at the University of Kentucky, has been named as the recipient of the Southern Kentucky Book Fest's Kentucky Literary Award for his book The Kentucky Derby: How the Run for the Roses Became America's Premier Sporting Event. First awarded in 2003, the Kentucky Literary Award is a celebration of Kentucky literature.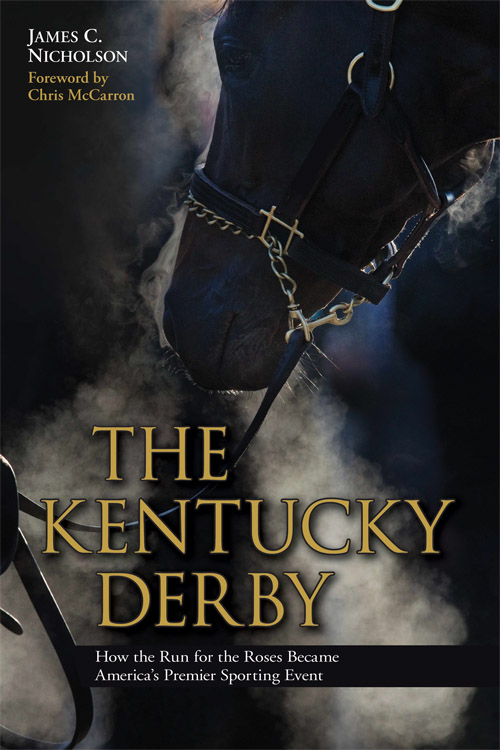 Eligible books for the Kentucky Literary Award include those written by Kentuckians or books with a substantial Kentucky theme. The award is given to fiction and nonfiction titles in alternating years. Nicholson was announced at the "Meet the Authors" event held on April 19, the evening before the Southern Kentucky Book Fest. This year, two other UPK titles were named among the five finalists, including A Few Honest Words: The Kentucky Roots of Popular Music by Jason Howard and Arab and Jewish Women in Kentucky: Stories of Accommodation and Audacity by Nora Rose Moosnick.
In The Kentucky Derby, Nicholson offers a look at the evolution of the Derby as well as its international, national and regional importance. He details the Derby's existence as an intersection of past traditions and contemporary culture, for both Kentuckians and Americans, and examines the historical, political and cultural significance of horse racing's most famous event. Few festivals and gatherings have maintained such a delicate balance between exuberant glamor and local approachability as the Kentucky Derby—the brightest jewel of the Triple Crown.
Nicholson is also the author of the recently published Never Say Die: A Kentucky Colt, the Epsom Derby, and the Rise of the Modern Thoroughbred Industry, also from University Press of Kentucky.
The University Press of Kentucky is the scholarly publisher for the Commonwealth of Kentucky, representing a consortium that now includes all of the state universities, five private colleges, and two historical societies. Led by Director Stephen Wrinn, its editorial program focuses on the humanities and the social sciences. Offices for the administrative, editorial, production and marketing departments of the press are found at UK, which provides financial support toward the operating expenses of the publishing operation.