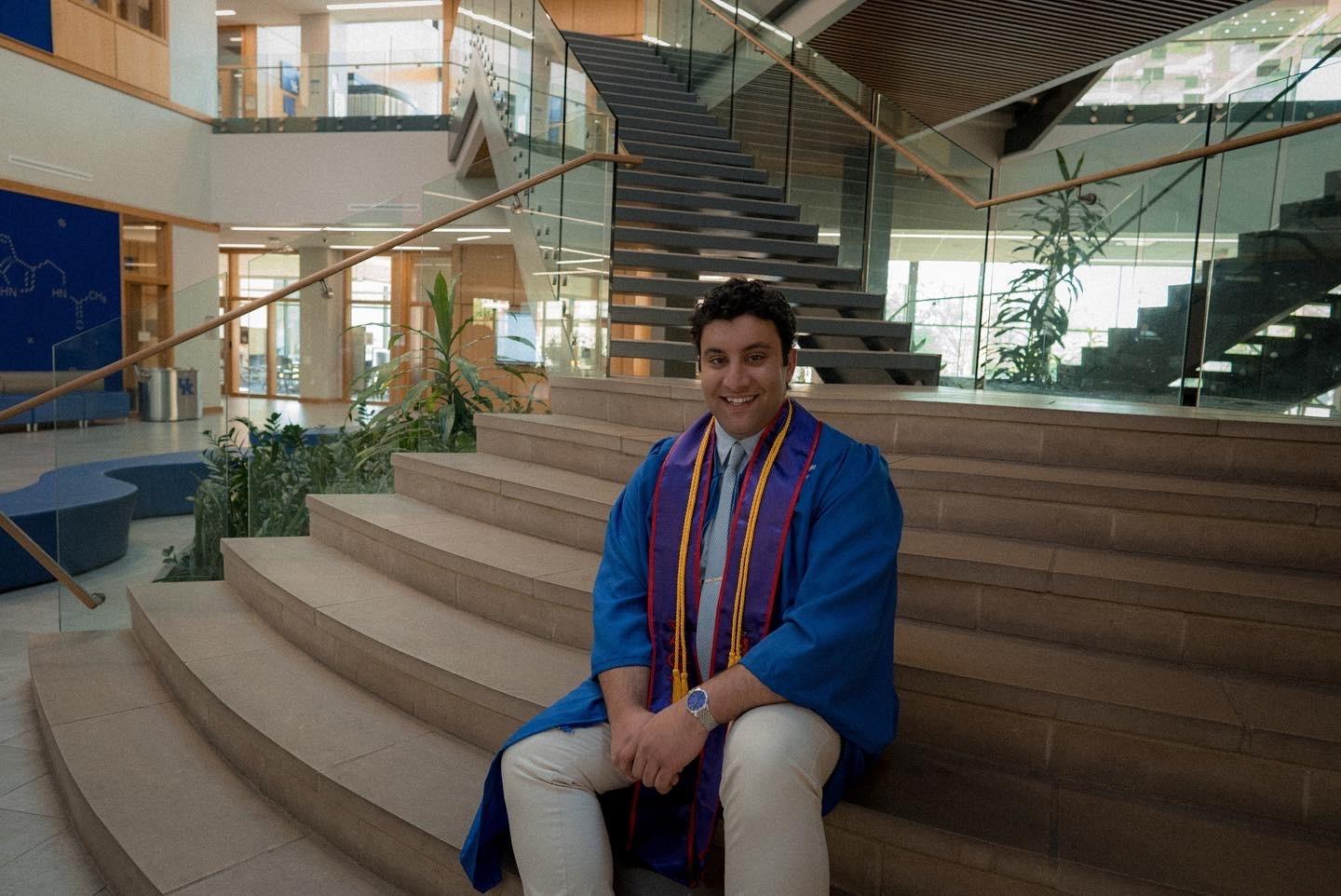 Many in the world emigrate from their homes due to hardships caused by wars. This was no different for Ghady Kanaan, who emigrated from Lebanon to the United States. He is graduating this May with a degree in chemistry, has already published research as an undergraduate with Mark Watson, associate professor of chemistry, and is working on another with Folami Ladipo, associate professor of chemistry.  
"I met Ghady as he was enrolled in our CHE 533 Advanced O-Chem laboratory in Spring '21," Watson said. "He was one of an outstanding group of students who all stood out for various reasons, and all seemed to seize the opportunity to carry out novel research. Ghady has that really refreshing combination of seriousness and maturity, while also loving the life he's in and taking full advantage of the university experience. He projects the kind of self-confidence and self-awareness of someone who has been through it., and grew.  I look forward to following his trajectory." 
He plans on working after graduation at the Cincinnati Cancer Center. Kanaan describes his experiences, how he has adapted to American culture and is thriving in his beloved field of chemistry.  
Q: How was living in Lebanon during your childhood? 
A: In Lebanon, I lived through a civil war when I was 6 years old. There were a couple bombings during that time. It was a lot to deal with then — the war, the corrupt politics and the constant terror. The whole summer of 2006, we were at home, constantly hiding from bombs. It was really bad. Other than the wars and the bad politics, I had a good childhood. 
Q: Describe your transition from Lebanon to the United States? 
A: I came to the United States when I was 14. The whole legal process to immigrate to the U.S. took a total of 12 years. My dad applied to immigrate to the U.S. in 2002, and we finally got accepted in 2014. It was a really long process to go through. When we moved here, I was a freshman in high school. We actually moved to Kentucky on Labor Day. I attended Lexington Catholic High School for a year before we moved to London, Kentucky. I then attended North Laurel High School for three years until I graduated. Honestly, the move has been really good for me.  I like living here and I don't want to go back to Lebanon because of everything going on there. I became a citizen in 2020, which was really nice. 
Q: In what ways are Lebanon and the United States similar and different for you? 
A: In Lebanon, we all grow up learning three languages, which are usually, Arabic, English and French. I had a similar childhood to an American childhood in some aspects. We were pretty Americanized. I listened to a lot of American music. I went to similar malls just like here. I watched the same American TV shows. We have similar stores, clothing styles and even restaurants. I even went to an Americanized school with a similar structure. It was different because you know, I experienced a civil war there, not like here. Another difference is the availability of extra-curricular activities. We have less there because it's expensive, rather than here, where it's pretty easy to get involved. The culture change was a bit overwhelming in some respects, but I fit in pretty well and I was able to cope because I had really good friends and support systems to help. 
Q: What attracted you to UK? 
A: I have had a big interest in chemistry ever since high school. I went to the chemistry symposium here at UK to see if I liked the program and I really enjoyed it. So, I decided to apply here. I also applied to three other schools. UK ended up giving me a good scholarship offer. I also went to my first basketball game in the 2014-15 season, when the Cats were unbeaten the whole season and I fell in love with UK basketball, so that was also a factor in my decision, and I absolutely do not regret it. 
Q: What kind of research have you done at UK? 
A: I have been published once in the Journal of Polymer Science (doi: 10.1002/pol.20220115). We got to build a polymer from scratch. We started by modifying a simple organic molecule in a couple different ways, then using those building blocks to grow different polymers. That synthesis was unheard of before, so we were able to get published with our team led by Dr. Watson in the CHE 533 laboratory class. I'm also getting ready to be published in the Journal of Inorganic Chemistry as well, by using a catalyst and synthesizing asymmetrical ethers with Dr. Folami Ladipo. I really enjoy doing research in the chemistry department. It's so cool I get to apply all the stuff we learn in class into real world applications, and it just gives me a sense of accomplishment. You do fail about 99% of the time but it's that 1% of success that keeps you going. 
Q: How do you help your family with cultural barriers? 
A: My parents are not very good English speakers at all. They still struggle to this day because their friend group is all Lebanese people in Northern Kentucky where we live, so they don't get to practice English often. So sometimes, I must deal with customer service. I also deal with all the bill paying, managing accounts, insurance and social security stuff. It's their money, I just help them in setting all that up because I have a better understanding of the financials and how to deal with all that. They are doing better now because I am teaching them how to do it themselves, as I won't be there all the time to help. 
Q: What are your goals and dreams? 
A:  I am taking a research position at Cincinnati Children's Hospital in the hematology lab, which is the bio-chemistry lab. This is for my gap year before I start medical school in 2023. Getting into medical school has always been a dream of mine. I've always told people if I get accepted and drop dead that second, I will feel accomplished in life. It's just been my dream for such a long time and seeing that I am so close to it is such a nice feeling. I also want to be successful and happy and definitely make my parents proud, because they have sacrificed so much for me.