Speaker(s) / Presenter(s):
Dr. Christopher Walker, Dr. Elizabeth Engelhardt, and Ph.D. Candidate Anna Hamilton
The "Introducing Environmental Humanities at the University of Kentucky and the Wider Community" workshop seeks to support the University of Kentucky's newly established Environmental Humanities Initiative. This workshop is in the form of a Zoom meeting (rather than a Zoom webinar) which will provide a platform for everyone's input. We have invited speakers from two different environmental humanities programs to speak about their own EH initiative's origins, challenges, and structures. Dr. Walker, from Colby College's Environmental Humanities Initiative, as well as Dr. Engelhardt and Anna Hamilton, from the Mellon-funded Coasts, Climates, the Humanities, and the Environment Consortium, will relay their own experiences whilst allowing for discussion across our group. We invite you to come along and share in this exciting and informative project.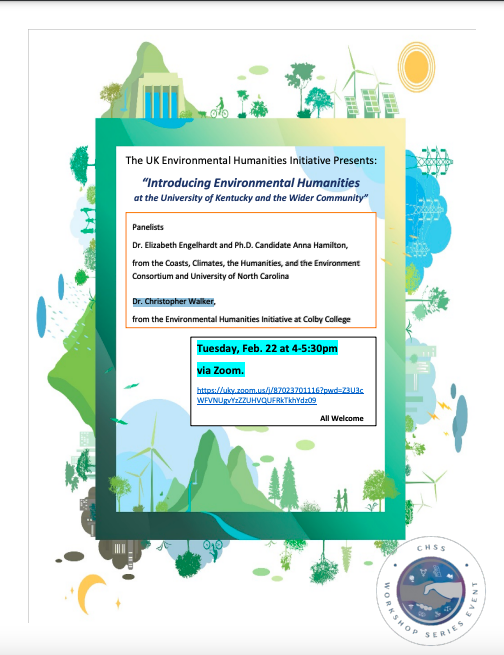 Type of Event (for grouping events):