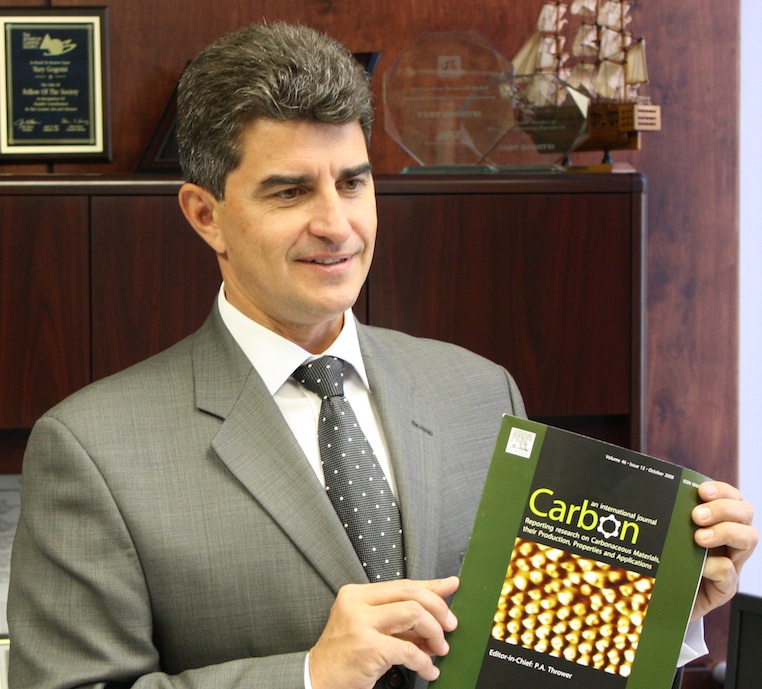 LEXINGTON, Ky. (Oct. 25, 2013) — The University of Kentucky College of Arts and Sciences Department of Chemistry will host the 17th annual Lyle Ramsay Dawson Lecture today, Oct. 25, at 4 p.m. in Room 139 of the Chemistry-Physics Building. This year's speaker will be Yury Gogotsi, professor of materials science and engineering at Drexel University, and director of the A.J. Drexel Nanotechnology Institute. The lecture is named after Dawson, a former UK distinguished professor and chair of the Department of Chemistry.
Gogotsi will provide an overview of research activities in the area of nanostructured carbon and carbide materials used for capacitive storage of electrical energy. Electrochemical capacitors or "supercapacitors" are devices that store electrical energy electrostatically and are used in applications where batteries cannot provide sufficient power or charge/discharge rates, or when a long service life (up to 1 million cycles) is needed. Until now, their higher cost, compared to batteries, has been limiting the use of supercapacitors in household, automotive and other cost-sensitive applications. Gogotsi describes the materials aspects of supercapacitor development, address unresolved issues and outline future research directions.
The lecture is free and open to the public. For more information, contact John P. Selegue or visit the Dawson Lecture Series website.