Speaker(s) / Presenter(s):
Amanda Rogers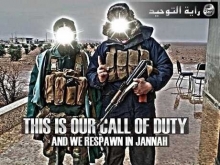 August 2014: my activist, academic, and journalistic lives collided in a digitized split-second. Online, I came face-to-surreal-face with ISIS' execution of a colleague, terrified for the haunting film's second captive—a friend. Although immersed professionally and personally in graphic image wars, this video proved especially disturbing, but why? Marketing's analytical frame, strategic deployment of popular culture, and the intended audience of young, digitally networked "global citizens" best contextualizes the ISIS phenomenon: a propaganda blitzkrieg rooted in commodified rebellion's consumption (Che t-shirts), not theology. ISIS exemplifies the paradoxical power of cultural production in contemporary geopolitical combat theater—war's increasingly symbolic terrain.
Amanda E. Rogers holds a PhD from Emory (2013). She is an academic, journalist, artist, and political analyst whose work appears in numerous forums, including the BBC, Al-Jazeera, and the New York Times. Her forthcoming monograph, Semiotics of Rebellion From Morocco to Egypt: Advertising Revolution and Marketing Allegiance, focuses on the critical use of politicized cultural discourse for international alliances, regional stability, and intra nation-state image warfare.
With funding from Chellgren Center.
http://finearts.uky.edu/events/art/black-flags-isis-%E2%80%9Cswag%E2%80…;
Type of Event (for grouping events):