by Nathan Owen

(Oct. 14, 2013) — The University of Kentucky Appalachian Center this month will host musician, scholar and activist Sue Massek as an artist in residence. 
During her residency, Oct. 23-25, Massek will visit with classes on campus, provide two free public performances in Lexington, and travel to Eastern Kentucky to perform her show "Precious Memories" at schools in Floyd and Pike Counties.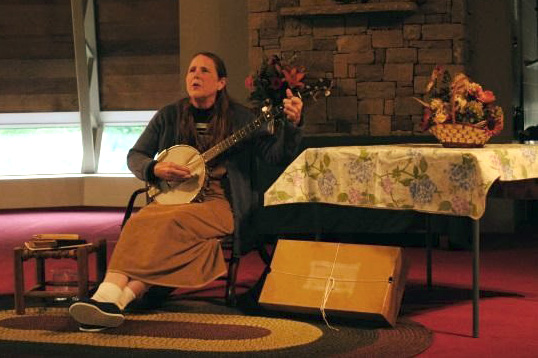 The one-woman musical traces the life of Sarah Ogan Gunning, an unsung hero of American folk music history. It was written by Si Kahn during his residency through the Appalachian Center in October 2012, using materials in UK's Special Collections,
"It is wonderful that Sue Massek will be able to perform the work at the University of Kentucky during her residency this year," said Ann Kingsolver, director of the UK Appalachian Center. "She is a member of the well-respected Reel World String Band, and we are delighted to host her for an individual residency so that UK students and public school students in Appalachian Kentucky will have the opportunity to interact with her about the social, historical, and musical context of the work."
Marat Moore, author of "Women in the Mines: Stories of Life and Work" and a former miner herself, wrote: "Sue Massek blew us away in her portrayal as Sarah Ogan Gunning. Our audience of women miners wept, laughed, sang along, and rose to cheer Sue at the final curtain. We left inspired and newly aware of the history of struggle and the power of ordinary people."  
Longtime folk and bluegrass DJ Jim Rogers was in the audience as "Precious Memories" opened the first Northern Appalachian Folk Festival in the borough of Indiana, Penn. He wrote to Kahn the morning after: "When one woman on a stage can hold the attention of an audience for nearly 90 minutes, you know something special is taking place. I believe you've created a masterpiece, and you've found the perfect person to deliver it. It was truly a privilege to be there."
Massek will perform "Precious Memories" at 7 p.m. Wednesday, Oct. 23, in the Recital Hall of the Singletary Center for the Arts on the University of Kentucky campus. This performance is free and open to the public.
Massek will end her residency by participating in the "Appalachia in the Bluegrass" concert series hosted by the John Jacob Niles Center for American Music at noon Friday, Oct. 25, in the Niles Gallery, located in the Lucille Caudill Little Fine Arts Library. That performance is also free and open to the public, but seating is much more limited than for Wednesday evening's performance.
Massek is an Appalachian musician, songwriter, community scholar, activist and arts organizer with over five decades of experience. She toured all over the U.S. and abroad as a solo musician and with the Reel World String Band, including two performances at the Lincoln Center. A successful writer, she has work published in multiple publications and journals on topics relating to the Appalachian region she calls her second home.
One of the many songs she has written, "Brennan's Ballad," inspired Silas House's book "Recruiters."
The UK Appalachian Center works to strengthen relationships between all colleges at the university and the communities in the 54 Appalachian counties of Kentucky by facilitating community partnerships in collaborative projects documenting and addressing the region's particular contributions and challenges in a global context.
Each year, an artist in residence at the UK Appalachian Center provides free arts programming in Appalachian schools, working with arts extension agents, as one of the many programs of the Appalachian Center.