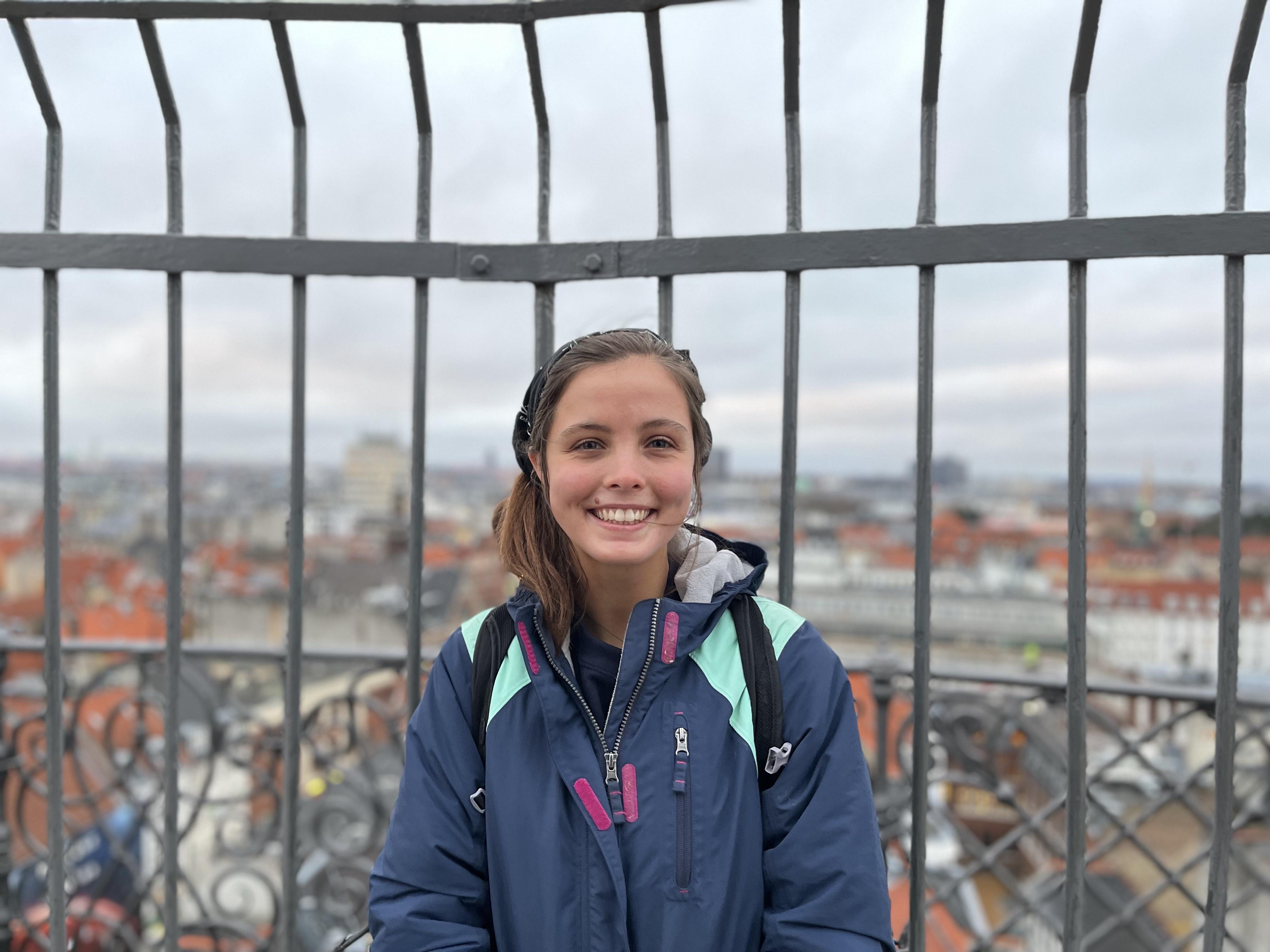 Arthur Cammers: I know you love the great outdoors ... and I know you are super curious about science. What's the back story? What influences created the current Anna? 
Anna Fatta: I've loved chemistry since I first saw the periodic table in elementary school. I loved the idea of atoms and even made a lab bench out of concrete blocks and plywood in the backyard. I might as well have picked my major right then in the fifth grade. My passion for the great outdoors came a little later, though. I was a dancer for thirteen years until I came to college. When I started at UK, I needed a new way to exercise, and I was enrolled in WRD 112. Those two may seem unrelated, but my final project in that class was a multimedia assignment on an issue of public concern, and my group decided to work on outdoor recreation in the nearby Red River Gorge Geological Area. Because of this, I began rock climbing. I was lucky to be in college so close to the Red River Gorge. Climbing in that area really opened my eyes to outdoor recreation, environmental justice, and public lands management, all of which will be affected by climate change in a multitude of ways. Now, I'd like to work at the intersection of chemistry and ecology, doing research that is directly relevant to public lands policy in the face of climate change. 
Arthur Cammers: Looks like you have ticked all the boxes for UK to confer a Bachelor of Science in Chemistry-Biological Track. Your path through your major has been interesting.  U. Kentucky Chemistry publishes these spotlights on alumni to inform students that science opens doors, and that there are options to find one's way to graduation. Tell us about your path to the May 2022 stage.
Anna Fatta: My path to a chemistry degree has been a departure from the ordinary. I made a plan during my first semester that outlined how I could fulfill the major requirements in three years instead of four, thanks to some course rearranging and several dozen credits of AP classes that I brought over from high school. This meant taking a heavier course load almost every semester. However, it never felt like too much, and it guaranteed that I was rarely bored. It also gave me the unique opportunity to study abroad for my entire senior year. I left Lexington in May after my junior year was over and went to Utah, where I worked for the US Geological Survey, doing both chemistry lab work and field work. It was a wonderful experience in exactly the field I want to join. Then in the fall, I was a domestic exchange student with the Wild Rockies Field Institute, where I backpacked and kayaked my way across Montana while taking classes in Ecology, Geography, Environmental Ethics, and Indigenous Relations. Finally, this spring I have been studying in Denmark with the Danish Institute for Study Abroad. I've taken some amazing classes here on glaciology and climate science, as well as travel writing and, of course, Danish. Finally, I'll be heading to Alaska this summer as a member of the Juneau Icefield Research Program, where I'll be cross-country skiing and mountaineering to various field sites for science. My path through college hasn't been very traditional, but I've been able to experience so much in such a short time. I'm confident that each part of my degree path will prepare me in different ways for the world post-graduation. 
Arthur Cammers: What's next for you? Oh ... wait, you told me, Fulbright Scholarship and going to Mongolia! Could you elaborate? What do you hope to accomplish?  
Anna Fatta: Yes, I just learned this month that I've been selected as a Fulbright Scholar for 2022-2023! I'll be going to Mongolia with the Fulbright Program next January, and I'll stay there for twelve months. My primary role will be as an English language instructor, but I'll also be a cultural ambassador. I hope to impart on my students the importance of global collaboration on climate change, collaboration that will only be facilitated by a shared language. A shared language allows us to have conversations about mutual environmental and medical challenges and learn from each other's experiences and coping strategies. If I can, I hope to use my outdoor experience to lead English-speaking excursions to Mongolian national parks. Reading maps in English, identifying plants and animals, and learning to pack equipment and food would make learning English memorable and fun. Overall, I hope my personal experiences will allow me to teach English through a lens of global importance when facing climate change and allow me to stress the importance of place-based education and protection of public spaces. Of course, I hope to learn just as much from my students. I've never been anywhere near Mongolia, and I'd like to learn about the Mongolian student experience and Mongolian culture as much as I can. The more familiar I become with my new home, hopefully the more relevant and interesting I can make my lessons. 
Arthur Cammers: You already have post Fulbright plans--geochemistry out in the wild. That makes me smile. Can you elaborate on what you will be trying to accomplish?   
Anna Fatta: I haven't completely made up my mind, but graduate school is a promising prospect. I've been looking into labs that study nutrient cycling in various ecosystems of the American west. I'm focused on this area because it's my favorite since region I've lived in so far. I've decided to look at nutrient cycling and biogeochemistry because I'm very interested in exploring how molecular activity alters observed phenomena at the macro scale, and how these related activities and phenomena will change in the coming years.
Arthur Cammers: What would you like to do with your career after you return from the northland? 
Anna Fatta: At the moment, I'd like to go to graduate school and then rejoin government research. My favorite job so far was my position with the US Geological Survey. There, I participated in all the steps of the scientific process, from hypothesizing to experimental design to analysis to writing. Wherever my future career takes me, I'd like to retain this holistic approach to science. 
There are so many people from so many places who helped make my unorthodox path through my bachelor's degree possible. I'd like to take the opportunity to specifically thank those at UK: Jon Hibbard, Dr. Stephen Testa, Dr. Arthur Cammers, Chris Little, Dr. Tony Stallins, Dr. Mark Watson, and Pat Whitlow. You all made it possible for me to finish a chemistry degree in three years, as well as move to four different states and to Denmark, scale gorges in Kentucky, kayak for nine days down the Missouri River, work for the USGS, hike glaciers in Iceland, win a Fulbright, and figure out my passion. Thank you.