by Sarah Geegan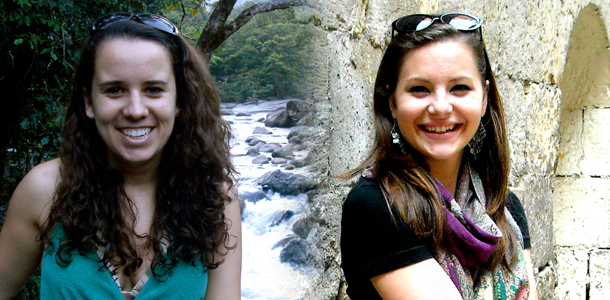 Two University of Kentucky graduates will join the Peace Corps this year to pursue service opportunities across the world. Gwendolyn Schaefer and Olivia Brown will leave the U.S. for 27 months to volunteer in developing countries as part of the program.
Schaefer, who had the idea to apply for the Corps after meeting a returned Peace Corps volunteer, recognized her strong desire to serve others after participating in two education abroad programs and traveling throughout the Middle East during her undergraduate career. 
"I knew that I wanted to take a break after graduation that would allow me to spend some time giving back to others and honing in on my interests for a future career," Schaefer said.
Schaefer and Brown both majored in international studies in the UK College of Arts and Sciences, where they became interested in global community development and developed a desire to be at the forefront of change.
"Through my coursework and interactions with department faculty, I learned that community interaction and development is crucial to changing the world around us in a sustainable manner," Schaefer said.
Both women also served as Education Abroad Peer Ambassadors (EAPAs) as students at UK, an experience that further shaped their decisions to apply for the Peace Corps. As part of the internship, these students learned professional skills that helped them utilize their individual talents in order to become better candidates for the Corps.
"As an EAPA, I had the chance to talk to students every week about my experience abroad. I realized that my passion for international experience was not over, and I became more excited about the Peace Corps every day," Brown said.
These UK alumnae are pursuing unique opportunities as part of their involvement with the Corps. Brown will serve in a health clinic in Burkina Faso, a small country in West Africa, where she will work with babies and their mothers who have been infected with AIDS.
Schaefer will serve as a secondary education TEFL (teaching English as a foreign language) instructor in Ukraine. In addition to her duties as an instructor, she plans to carry out a secondary project serving the needs of her immediate community with an emphasis on civic engagement, a field she plans to enter after her Peace Corps service.
During their 27 months of service, Schaefer and Brown hope to learn a lot about themselves and the work they want to pursue when they return to the U.S. Though no two Peace Corps experiences are alike, participants often return home with new perspectives and lifelong friendships.
"I hope to come home with a much better idea of myself and my place in the world after my time in Burkina Faso," Brown said.
For students interested in pursuing opportunities with the Peace Corps, Schaefer and Brown encourage them to consider the position carefully before rushing into the application.
"Living and serving in poverty for 27 months is a huge commitment that shouldn't be taken lightly. Discuss it with your friends and family and make sure that it's the right thing for you," Brown said.
For more information about opportunities with the Peace Corps, attend a Peace Corps Info Session at 6 p.m. Wednesday, Sept. 11, in Room 111 of the Student Center, or chat with a Peace Corps representative at the Education Abroad Fair.